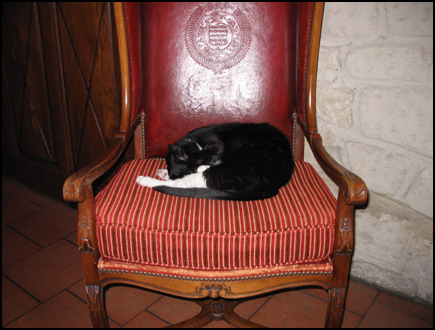 All travel carries a scent of infidelity. The eye wanders, the senses get curious, the smile invites foreign conversations, and at night you grope your way to the bathroom as though you might disturb a stranger. The wandering, the sensing, the inviting, and the groping are more pronounced when you travel alone. I know. I've been there. I was unfaithful the night I slept at Hotel Saint Paul Rive Gauche.
Doubly unfaithful. The first infidelity was to have slept there in the first place since I already have an apartment in Paris. The French, naturally, has an excellent verb for such infidelity: découcher, meaning that you chose to sleep (coucher) elsewhere. You may just have stayed out all night having fun or avoiding going home, but presumably you did in fact lie down somewhere, probably not alone.
I slept alone that night, but I hereby confess that several times that afternoon, evening, and following morning I caressed another… cat.
It's no secret to readers of this site that I write at home in the company of a chartreux named Moumoon. Nor is it a secret that Hotel Saint Paul Rive Gauche has a house cat, Sputnik. While other hotels put forth their fitness center or bar, the Saint Paul puts forth its cat. Rather, Sputnik puts himself forth as he lies across the reception desk, graces a nearby armchair, or asserts his languid presence in the little lobby. He is more than simply the hotel's mascot—he is its central character. At age 15, on daily thyroid medication, he has likely been photographed by every passing traveler with the slightest affection for fur.
So while my Moumoon stayed at home, possibly rushing to the door whenever he heard steps on the stairwell, I unfaithfully sojourned at the Saint Paul, where I admired, photographed, inquired about, and caressed Sputnik.
Late that evening, having come back from a sit at the beer bar La Pinte followed by dinner at the folkloric restaurant Polidor (see below) and now trying to strike up a conversation with the night watchman, who would have been happy enough to hand me my key and send me on my way and who seemed not to comprehend (and was possibly annoyed by) a visitor's interest in the cat, I was momentarily ashamed to have left Moumoon on his own. There'd been that look in his eyes as I was packing my toiletries as if to say: Is this going to be like that time you left me little more than a meager lunch then came home two days later smelling like a 30-year-old returning from a weekend geek convention?
Some will think I'm joking about feline infidelity, but anyone who has ever briefly gone AWOL from a pet, a kid, a spouse, or a garden can understand. Nevertheless, the key to enjoying any infidelity is to take full advantage of it while it lasts and to not carry home guilt like a foreign fruit whose parasites might infect your own garden. This in mind, I handed the key back to the night watchman and went out again. Why feel unfaithful to Moumoon, I realized, when I can be faithful to my task as a researcher exploring the neighborhood? So I went to Le Père Louis, the crowded wine bar at the corner, for local flavor.
I'm undoubtedly preaching to the choir of guiltless infidels if your interest in reading this piece is to know whether or not Saint Paul is recommendable for your own découching.
It is indeed.
Nestled on a fairly quiet street between the Luxembourg Garden and Boulevard Saint-Michel, 3-start Hotel Saint Paul Rive Gauche has been in the same family for four generations. This allows for a personalized touch to the 31 rooms. Each has a different wall fabric, paint or paper—one striped, one faux marble, one painted over paper, one monkey-themed. Some have exposed beams. There's one with a tester bed, another, facing a little enclosed ground-floor garden, with starry dots of light above the bed in case you're in the mood for a touch of kitsch romance. All have AC. Room space is tight, as is to be expected in this price range in this quarter. And as is to be expected in a 17th-century building, the breakfast room cozily occupies the even older basement, and the ceilings get lower from floor to floor as you rise in the building, while the view gets airier.
This is all in all a well-situated, well-appointed hotel of contemporary warmth and old-fashion charm. The rates are favorable in view of the comfort of the rooms, the freshness (in most cases) of the décor, and the location by the Luxembourg Garden.
I'd been given a small suite under the eves, quiet as can be but for a hushing flow of ventilation. Entering and leaving (twice) in the evening I had the impression that I was the only guest that night even though I was told that the hotel was 80% full. My suite had wide rust, brown, mustard, and white stripes and a view out back over the recreation ground of Lycée Louis Legrand, one of Paris's most high-achieving high schools. No need to worry about the noise out back; students there don't recreate, they study. The night view from my window was dark but for several lit windows on the top floor of a building on Boulevard Saint-Michel, the dome of the chapel of the Sorbonne, and beyond that the dome of the Pantheon.
Rooms on the street side are a tad larger (though still of modest size) and are also likely to be calm at night, though there might be a bit of post-party chatter on a Saturday night when clubbers exit the Urgence (Emergency) Bar next door.
The bedding was a bit soft for my taste, though the down comforter was indeed comforting and the room sterling quiet, as befits the home of a tired old cat and a night of peaceful infidelity.
I washed my hands before going home.
[Update: Sputnik is no long with us, other than in memory. Neither is Moumoon. The hotel is still worthy for its category.]
***
Hotel Saint Paul Rive Gauche, 43 rue Monsieur-le-Prince, 6th arrondissement. Tel. 01 43 26 98 64. This is a 3-star hotel. See hotel website for rates. As with all hotels, ask if any promotional rates are available when reserving. [Jan. 2011 postscript: Hotel Saint Paul Rive Gauche has a new mascot kitty named Skype.]
Historical notes
American writer Richard Wright (1908-1921) lived at 14 rue Monsieur le Prince from 1948 to 1959. French composer Camille Saint-Saens (1835-1921) lived at the same address from 1877 to 1889. Notice the beautiful doorway there.
Auguste Comte (1798-1857), French father of sociology and founder of positivism, lived at 10 rue Monsieur le Prince from 1841 to 1857.
I spent a night at Hotel Saint Paul in November 2008.
© 2009, Gary Lee Kraut