There are wine bars of atmosphere where you go to be a part of a crowd and there are wine bars of knowledge where you go to do some tasting in good company. Les Fines Gueules, slang for "the refined palates," is among the latter. It's appeal lies in it being friendly, classy, and unpretentious—and moderately priced.
Les Fines Gueules might be more appropriately considered a restaurant with a bar area up front than a wine bar, but I always approach it as a wine bar where I might eventually stay for dinner. I therefore like to stop by with friends relatively early in the Paris evening, say between 6:30 and 7:30, when there are few others around. We sit on the stools before the stylish curve of the zinc bar and, after giving some indication of our likes and dislikes, let ourselves be talked into whatever owner Arnaud Pradol or the friendly barman on duty thinks we should try among the great selection of organic wines. Accompanied with a platter, small or large, of organic cheeses and cold cuts, plans for dinner elsewhere typically get put off until eventually we order a main course. Yesterday that meant sea bass with risotto.
The photo below shows Arnaud Pradol discussing the Saint Joseph that we ordered. Notice behind him the beautiful red manual deli slicer from about 1950.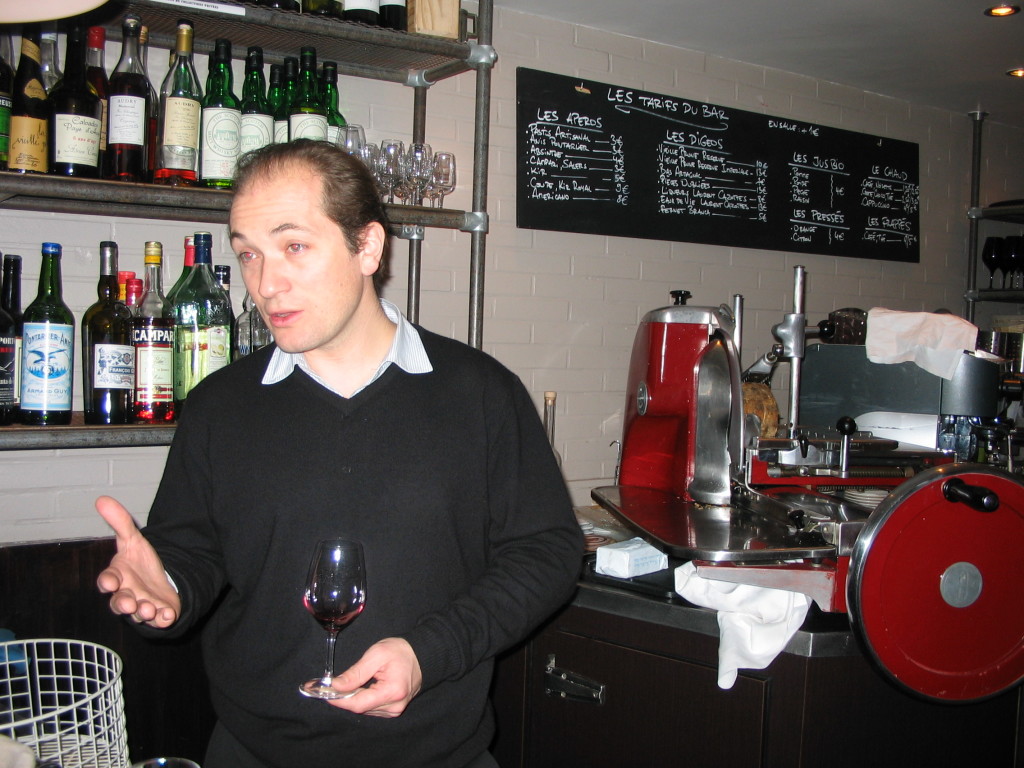 Les Fines Gueules, 43 rue Croix-des-Petits-Champs, 1st arrondissement. Near Place des Victoires, a 5 minute walk from metro Palais Royal or Bourse. Tel. 01 42 61 35 41.