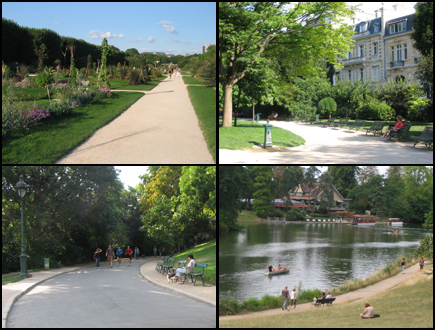 Looking for the best places to jog in Paris? Join Parisian runners with in these six parks and gardens. This article also contains a schedule of major races in the city.
* * *
Paris's compact beauty, regularly spaced parks and gardens, and romantic stretch of river make this one of the world's most beloved walking cities. Now strap on a pair of running shoes and you'll find that those same elements add up to a great jogging city as well.
Large swaths of the city can be viewed in a street-and-sidewalk run. In 30 to 60 minutes of footing or jogging, as the French call it (emphasis on the ting and the ging), you can cover half a guidebook's worth of major sites.
But what makes Paris especially attractive for the casual runner is the quality and quantity of joggable paths in its green spaces. Wherever you're staying or living in Paris you're within an easy run or quick metro ride from a major park or garden or from the woods on the eastern and western edges of the city. Once there you can enjoy the variety of urban nature à la française, escape the immediate exhaust fumes of the street, run without concern for stop lights or unstopping bikers, and in most cases save on wear and tear of your joints by running along dirt paths.
Furthermore, Paris's temperate climate, which can be so annoying for those who prefer "real" seasons, allows for year-round jogging. It's rarely too hot or too cold for outdoor exercise, the rain is typically light, and Paris is only moderately polluted as far as big cities go.
Where to jog in Paris? As an occasional, non-competitive, 30-40-minute runner I've taken to the paths of Paris and come up with the following list of the capital's six best green jogging paths. In each of these settings you'll find drinking hydrants along the paths and cafés or snack stands close by.
This list of joggable parks and gardens and woods (numbers correspond to numbers on the map) is then followed by information about five major annual races organized in Paris and open to the public.
1. Parc Monceau. Monceau is the most genteel of the major parks of Paris. Still there's a good amount of sweating going on along the 1K dirt path within the perimeter of its gold-tipped fence. This is particularly true before and after office hours and on weekends. Bordered by luxurious mansions and apartments, its playground occupied by well-dressed children and their nannies, its passers-through respectful of joggers, its lovers and retirees and newspaper readers having left their worries at the gate, Monceau lends itself to an easy-going, daydreaming jog. This may not seem like the setting for a long, hard run, but once on the path you'll have no problem pushing yourself to just one more go-around, and then another. One of the hallmarks of Monceau is the hundreds of long, curved benches that border its paths, which can serve as extra motivation for those whose stride and endurance are improved by having their legs and efforts admired as they run. Parc Monceau (also called Parc de Monceau) is just over a half-mile (nearly 1K) from the Champs-Elysées, so it's a practical place to run from any of the hotels near the Champs or elsewhere in the 8th arrondissement.
– Opening times: Oct.-March 7am-8pm, April-Sept. 7am-10pm.
– Closest metro: Monceau.
2. The Luxembourg Garden. Life is sweet in the Luxembourg Garden, backyard of the French Senate and green get-away for the residents, students, and travelers on the Left Bank. With its variety of settings—open space, shady nooks, children's playground, pétanque grounds, tennis courts, apple and pear orchard—this is a delicious venue for a prolonged sit or a picturesque stroll… and for a run along the cool mile (1.6K) of its outer dirt-and-gravel and relatively pedestrian-free path. Within easy reach of the hotels in the 5th, 6th, and, in part, 7th arrondissements, the Luxembourg, affectionately known as Luco, is the natural choice for a jog when staying anywhere on the central Left Bank—a jog that takes away the guilt of enjoying those oh-so-tempting pastry shops in the Saint Germain Quarter.
– Opening times: 7:30/8:15am until about sunset.
– Closest metro: Odéon, Saint Sulpice, Notre Dame des Champs; RER Luxembourg.
3. Parc des Buttes Chaumont. The Buttes Chaumont in the 19th arrondissement is the least well known of the major parks of Paris, even to Parisians living outside of the northeast quadrant of the city. Other than being a discovery for the oft-return traveler, the Buttes (Hillocks) has the advantage for the serious runner of being one of the capital's largest parks as well as the only one with hills and grassy knolls to stretch and lie on. By contrast with the more formal geometry of classic French gardens, the comma-shaped Buttes Chaumont has an undulating, free-flowing English-inspired design. Its landscape was inspired by the pits and cliffs of the open-air quarry, waste dump, and purification basin that occupied the zone prior to its transformation to city park in the 1860s. Its asphalt outer path covers a little over 2K or 1.3 miles, while it's also possible to zigzag along the cross paths if looking for the challenge of its brief steeper slopes.
– Opening times: Oct.-April 7am-8pm, May-Aug. 7am-10pm, Sept. 7pm-9pm.
– Closest metro: Buttes Chaumont, however Laumière or Pyrénées may be more practical depending on what direction you're coming from.
4. Bois de Boulogne, Lac Inférieur.
The left lung of Paris, the woods of Boulogne on the western edge of the city, calls for a jog through and through. The venturesome long-distance runner need only follow his stride to explore the paths, grounds, gardens, and woods that serve as a vast playground where sport, sex, family, and privilege peacefully and naturally coexist. Joggers unfamiliar with these woods should begin by sticking to the 2.5K (1.5-mile) path surrounding Lac Inférieur, which is situated about 1K from the nearest metro or RER station. Cross a road from on the southern tip of Inférieur and you can also add a 1.2K (.75-mile) run around Lac Supérieur. If looking to continue with an upper-body workout you can exercise in style by renting a rowboat on Lac Inférieur.
– Opening times: Without any gate surrounding it, entrance to the Bois de Boulogne and Vincennes is possible at any time but unadvisable after dark. Nevertheless, after-work joggers do take to the lit paths after sunset in fall and winter.
– Closest metro: Porte Dauphine, Ranelagh; RER Avenue Foch.
5. Bois de Vincennes, Lac Daumesnil.
The Vincennes Woods that serve as Paris's right lung have less cachet than those of Boulogne since Boulogne draws its clientele from the wealthy western arrondissements and suburbs. Furthermore, there are far more hotels and expats on the western (Boulogne) side of the capital than on the eastern (Vincennes) side, so Vincennes tends to get downplayed compared its prestigious brother. Nevertheless, Vincennes is an equally pleasant place for a long-distance run, and the wide dirt path around Lac Daumesnil is actually the most ideally suited for a moderate-distance run among those described here. The lakeside path weighs in at 2.1K or 1.3 miles. Though you'll need to take the metro to the edge of the city to get here, the lake is just 500 yards from the metro stop. Simply head for the trees and you see it. As at Boulogne's Lac Inférieur, Vincennes' Lac Daumesnil also has rental row boats for your upper-body workout… or to romance your running partner. Porte Dorée has cafés and bakeries for your post-run pleasure.
– Opening times: Without any gate surrounding it, entrance to the Bois de Vincennes is possible at anytime but unadvisable after dark.
– Closest metro: Porte Dorée.
6. Jardin des Plantes/Botanical Garden.
While the Tuileries is Paris's most historical pleasure garden, the Jardin des Plantes is its historical scientific garden, the pursuit of a 400-year-old royal project to study, catalogue, and present nature, including exotic plants brought from overseas expeditions. Its dirt-and-gravel path outlines a rectangular 1-1.5K run, depending on how it's navigated, with some additional concrete-paved squiggles possible. Your botanical run will pass a robinia (locust tree) that has some of the oldest roots in Paris, having been transplanted at this spot in 1630 from seeds that arrived from North American in 1600. The menagerie at the Jardin des Plantes, fenced off from the running paths, has the distinction of being among the world's oldest public zoos, opened in 1794 when it put on public display the animals from the Royal Menagerie at Versailles. Should it rain after a few K, you can veer off for a visit of the National Natural History Museum or cross the street for mint tea and pastries at the tearoom of the Mosque.
– Opening times: 7:30/8am-6:30/7:30pm depending on season.
– Closest metro: Jussieu, Gare d'Austerlitz
Other greenery
Though I prefer any of the six above to the two mentioned below, convenience or curiosity may lead you to trot around one or the other.
Jardin des Tuileries.
The one mile inside edge of the Tuileries Garden is convenient for first-thing-in-the-morning joggers staying in the Louvre, Opera, or Concorde quarters of the 1st and 2nd arrondissements. And it's acceptable for a winter run at any time of day. However, due to the number of tourists passing through in spring and summer and the presence of the amusement park along one side in summer I find this the least jogger-friendly of the major parks of Paris. Nevertheless, how often does one get to run in one of France's most historical gardens—the grandfather of French gardens and former backyard of the Tuileries Palace, until the royal-cum-imperial palace was burned down in 1871. Had Napoleon been a jogger he would undoubtedly have run here.
– Opening times: 7:30am-7pm.
– Closest metro: Tuileries, Concorde.
Parc Montsouris.
Montsouris combines the gentility and curving benches of Monceau with the Londoner spirit of Buttes Chaumont. Its 1.4K (.9 mile) asphalt edge, on a low slope, would be appealing for several tours were it not so out of the way for most travelers. Those willing to take the metro to start their jog are better advised to head to Bois de Vincennes or Buttes Chaumont.
– Opening times: 8am on weekdays, 9am on weekends and holidays, until before sunset.
– Closest metro: Denfert-Rochereau. RER Cité Universitaire.
Five Major Running Events in Paris Open to the Public
1. Race name: Marathon de Paris
Date: First Sunday in April
Distance: 42.195K
Participants: About 30,000
Where: The marathon course begins on the Champs-Elysées and runs through the center of Paris along the northern side of the Seine, extending east into the Vincennes Woods and west into the Boulogne Woods.
Site: www.parismarathon.com
2. Race name: La Parisienne
Date: Sunday in early September in conjunction with the 3-day Salon Bien-Etre (Well-Being Fair).
Participants: Women only. Limited to 13,000.
Distance: 6K
Where: Near the Eiffel Tower
Site: www.la-parisienne.net
3. Race name: Paris-Versailles
Date: Last Sunday in September
Distance: 16K
Participants: About 25,000. Must be 18 or older to enter.
Where: From the foot of the Eiffel Tower to the Chateau of Versailles, with one significant hill along the way. Return to Paris by train.
Site: www.parisversailles.com
4. Race name: 20 Kilomètres de Paris
Date: Mid-October
Distance: 20K
Participants: Limited to 20,000
Where: Begins across the river from the Eiffel Tower and covers portions of the western side of Paris before crossing the river and arriving at the base of the tower.
Site: www.20kmparis.com
5. Race name: Les Courses du Luxembourg
Date: End of September.
Distance: 6K and 10K races.
Participants: Organized by a sporting association of the 6th arrondissement without the national or international scope of the races mentioned above.
Where: In and around the Luxembourg Garden.
Site: www.lescoursesduluxembourg.fr
Information is available in English on the site of all but the last race above. Unless you have a French sports membership card, some of these races require a medical certificate indicating that you have no counter-indication to participating in a running competition, except in elite categories for races where international credentials apply.
© 2008/2015 by Gary Lee Kraut.